The History of World War I
through sheet music

By Bruce Updegrove

Edited By Eleanor Jenitis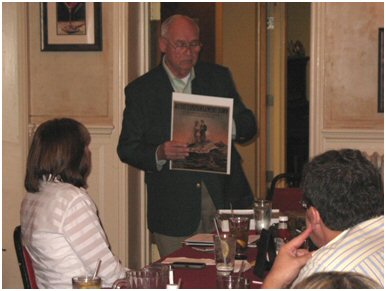 Bruce used to teach 11th grade American history and embraced the challenge of trying to bring his students into the history of America and raise their awareness as to who we are.
Bruce amazingly and cleverly walked us through the war vis-a-vis the sheet music covers and titles, a fascinating walk. While the war was from 1914-1918, the United States becomes fully involved in 1917. Bruce pointed out that during the war there wasn't really that much to do at home, and thus many people tried to learn to play an instrument, with piano always being a favorite. So the people depended upon sheet music to keep the entertainment going. Sheet music, its covers and titles, became a reflection of American sentiment on the war.
"I Didn't Raise my Boy to be a Soldier," depicted an Oriental woman on the cover, likely a visiting piano instructor. Bruce added that the woman could actually have paid the publisher for the advertisement. But the title clearly indicates that not everyone was supportive of the war in its nascent stage.
Then we have the sinking of the Lusitania. '"Now's the Time to Wake up America" appears on a cover. We start to see more patriotic music emerging, as in "Answer Mr. Wilson's Call" and "Let Us (America) Make the World Safe for Democracy." This being a little tricky, as we were fighting Germany and aligning with Czarist Russia, living in a feudal system, though for a brief time in 1917, Russia had something resembling a democracy, though it ended in November 1917.

America answers the call to war and we see "America, Here's my Boy" and "Let's All be Americans" sheet music. We see more patriotic songs, as with "You Can't Beat Us" depicting Uncle Sam pointing at viewer. We see realization of the reality of war, as with "Take Good Care of Mother When I'm Gone." Also, "K-K-K Katy" is about a young soldier who loves a girl but stutters when he tries to tell her. Bruce told us a story about a time he went to a rest home in the 1970s to discuss the various songs, and when this one came up, a woman residing at the rest home sang it to the hilt, along with other songs of the WWI era!!

Songs like "Hitting the trail to Normandy," "They Were All Our of Step but Jim," "Oh, How I Hate to Get Up in the Morning," by Irving Berlin (the most noted lyricist in WWI) all reflect the soldier's musings during the War.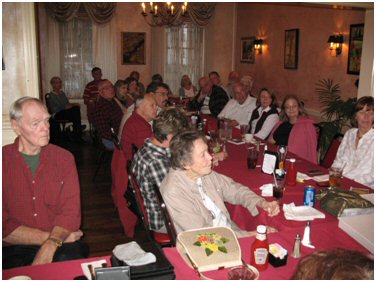 As a side note, Irving Berlin wrote a song called "God Bless America" in 1918 while he was a soldier serving the U.S Army at Camp Upton in Yaphank, New York, but decided it did not fit in a revue called "Yip Yip Yaphank," so he set it aside. Then, in 1938, Kate Smith sang a very patriotic song on an Armistice Day broadcast on her radio show. Whether it was the ominous rise of Hitler driving Irving Berlin to resurrect his song from WWI or whether Kate Smith contacted him to see what patriotic songs he might have in his repertoire, we probably won't know for certain. Either way, Kate Smith was the first to sing the re-written "God Bless America" and she immortalized the song forever!

Bruce reminded us that the sheet music really was quite elaborate, in three color, almost like posters. This was evident as he held up sheet music after sheet music. Absolutely beautiful illustrations. Bruce then went on to highlight myriad songs which again, reflected the hearts, souls and minds of Americans during the war, from whimsical, to proud, to hopeful, to sad, to glad:

"I Don't Know Where I'm Going, But I'm on my Way" (Bruce jokingly noted it should be a senior commencement song!); "We're Coming Uncle Sammy;" "Goodbye Broadway, Hello France;" "Just Like Washington Crossed the Delaware, Pershing Will Cross the Rhine;" "Over There!" (by George M. Cohan); "Pack Up Your Troubles in Your Old Kit Bag and Smile, Smile, Smile;" "There's a Little Blue Star in the Window;" When The Little Blue Start in the Window Has Turned to Gold" (Bruce reminded us that a blue star hanging in the window signified that a family member was serving in the military; a gold star meant the family member was killed in the war.); "Germany You'll Soon Be No Man's Land;" "When the Yankees Yank the Kaiser Off His Throne;" "There's an Angel Missing from Heaven;" "If I'm Not at the Roll-Call (Kiss Mother Good-bye for Me);" "Bring Back My Daddy to Me;" "Hunting the Hun."

And finally, as the war ended, "They're Coming Back;" "Mother Here's Your Boy;" "You'd Better Be Nice to Them Now" (meaning the women in a post-war economy).

Bruce concluded with the thought that the sheet music continued to reflect the National sentiment even after the War. In 1918 it references Prohibition with "What'll We Do On a Saturday Night When the Town Goes Dry." Sheet music also followed the women's right to vote in 1920.

Bruce was asked how and where he acquired such a remarkable collection of sheet music. Mainly flea markets over the past 20 years.

Thank you, Bruce, for illustrating the war through sheet music!
The Top Antiques of 2014

By Arthur Schwerdt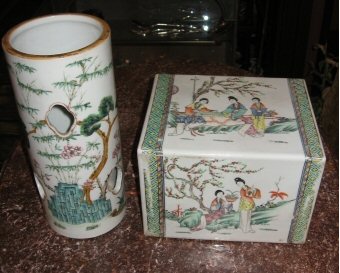 Old Chinese export porcelains are very popular now, but collectors want them to be very old and very special, like this hat stand (about $650) & meditation pillow (about $1,200).
There is no question that the antique business
is not the frenzy it was ten or fifteen years ago, but, in general, it's doing just fine. Just look at
the number of shows on television having to do with antique and vintage items. People are still
very interested.

Here's my annual list of what kinds of things
people seem to be interested in today. I put it together based on what I have seen around in my travels and read about in the trade publications
and on the Internet. There is so much more out there than is listed here; all you have to do is get out to the shops and look around. It's fun.

Some items get more attention on the antiques market for obvious reasons. For instance, since
it's the Year of the Horse in the Chinese calendar; so, why not take another look at all the horse-related art, collectibles and decorative accessories out there?

Horses are beautiful animals that have always inspired collectors and decorators, but a year like this can make converts. Some folks over the next few months will decide that decorative accessories featuring horses are just what their interior design needs - an oil painting, a sporting print, a bronze figure, clock, or lamp. Or maybe it will be some mounted racing or riding memorabilia.

Inviting a different kind of collector, this summer we commemorate the 100th anniversary of the First World War. History buffs and military collectors will pour over battle strategies, battlefront memorabilia uniforms, armaments and gear, medals, maps, munitions boxes, etc. On the softer side, there are the sentimental postcards and handmade handkerchiefs sent back by American soldiers in Paris. There are also home front posters and sheet music.

All kinds of American military memorabilia has been vigorously collected lately. The Civil War still leads the field, but this year we'll be giving special attention to this "war to end all wars."

Old American patriotic art and symbols are gaining interest on the current market. The older the better in this field, but you can come right up to the Bicentennial in 1976. This would include paintings or prints of American presidents, statesmen, military figures, historic moments, landmark buildings, busts, flags, eagles, images of Uncle Sam, editorial cartoons and political memorabilia.

These days some Chinese exports may be disparaged for shoddy workmanship or questionable contents materials. There was a time, however, Chinese export porcelains were considered among the most prized possessions in any household. They deserve every bit of that reputation. The quality of the porcelain and the decoration are so exquisite they seem almost calculated to impress us. Today, it's often the Chinese, themselves, that seem the most impressed by their ancestors' skill, and that has given a boost to this market.

A segment of the population seems to be weary of traditional English and French decorative options. That's given rise to the popularity of painted furniture. This is really a revival of Cottage Style Victorian. (And you thought Victorian was over. It's never over).

It's surprising how well the painted furniture look can work in even the most modern-style homes. It's easy, breezy, casual, warm and homey. What's not to like?

Those who are looking for a more sophisticated environment are still opting for the Mid-Century High Style (1940-1970), either the traditional "Decorator" look, or post-war Modern, where every chair, lamp and vase is a work of art. Very smart.

This flashy 20th Century look is what is also "in" in estate jewelry these days. Just look at the Cartier ads; it's jewelry you want them to notice across the room. The originals are in the antique shops, and they are also entirely hand-crafted.

Don't overlook all the everyday utilitarian items folks are finding in antique shops. These are things you might otherwise shop for in the national chains and discount stores - mixing, serving and salad bowls, mugs, refrigerator dished, skillets, teapots, soap dishes, pot holders, table cloths and napkins, spice jars, etc., etc.

Coming from an antique shop, these items are not only unique and classy, they are often better made than what you can find new.

Also riding high in the market these days are the following: sewing items (a thimble just sold for $20,000), musical instruments, tin litho toys, Victorian ABC plates (especially those with mottoes), LPs (check the Internet), silver, advertising signs, doll house furniture and miniatures, architectural and garden items.

There are about 40 antique shops here on the Cape. You can get a list from the Cape May County Department of Tourism (465-6415 or, out of the area at 1-800-227-2297). You can reach them on the Internet at www.thejerseycape.com.

Arthur Schwerdt, a certified appraiser, is the author of "The Antique Story Book: Finding the Real Value of Old Things," and co-owner of The August Farmhouse Antiques on Route 9 in Swainton. Send your comments, questions and appraisal requests to aschwerdt@cmcherald.com.
19th Century Photography - An Introduction

By Bob Lucas

Edited by Eleanor Jenitis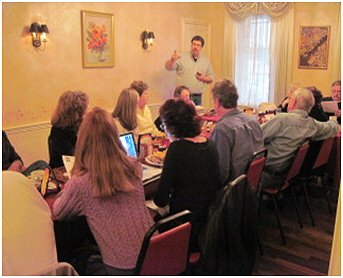 Bob delivered a broad and informative presentation of the history and technology of 19th century photography.
Subject matter included "Hard" Images (Daguerreotypes, Ambrotypes and Tintypes - along with size descriptions) and "Soft" Images (Calotypes, Salt Prints, Albumin Prints, Gelatin Prints). Bob described various characteristics of each medium, along with some commercial aspects.
Daguerreotypes, 1839-1860. Bob pointed out that the sensitivity of the process and thus the time required to photograph a subject for a daguerreotype was lengthy; photographers, therefore, developed stationary assists against which the subjects could lean or which held portions of the body firmly in place. Bob also mentioned that the vapors from the process were not the best for developers/photographers. The image produced was one of a kind with no easy replication, thus restricting commercial distribution viability.
From a collectible standpoint, what is important is subject matter and rarity. Condition is always a key driving factor, but can be trumped by rarity. The case itself can also have value, e.g., a full plate, empty, leatherette case, hinges relatively okay, can fetch $200-$400. A daguerreotype of George Washington can be a $2,000 - $3,000 range.
Ambrotypes, 1854-1864. Again, condition and subject are important. Content, pleasant image, clarity, etc. drives desirability. E.g., dogs usually more desirable than cats.
Tintypes, 1856-1940. Similar characteristics drive desirability. These are fundamentally the last images that were placed into cases.
Paper Photography - The Civil War helped facilitate the technologies because images were so easily duplicated. Soldiers from the field and prior could distribute to family and friends. They were easily mailed, and were inexpensive, e.g., twelve for $1.00 (vs., e.g., one daguerreotype for $1.25).
Calotypes, 1841-1860. Tended to be fairly fuzzy, do not like exposure to light, especially bright lights. In fact, image could, would and does, quickly disappear!
Salt Prints, 1852-1861. Characteristics similar to those of calotypes.
Albumen Prints, 1850-1910. This medium included the mighty CDV (carte de visite) and represents so many of our Civil War soldier and military images. With this technology, could print as many as desired and thus enjoyed great commercial viability.
Gelatin Prints, 1880-1910. These tend to be a lot darker, e.g., blue/brown, and do not have as much value.
Stereoviews. Two images that were placed on a paper card (or glass slide) were photographed at angles akin to the alignment of the human eyes. A stereopticon (or stereo viewer) is used to view the card and when properly placed and viewed, a 3D image materializes. Fundamentally, the stereoview is the first 3D technology!
This became a major force in the commercial world. People could see images from around the world in 'vibrant' 3D. Keystone Publishing Co. was a common publisher. Desirability factors include city scenes, Americana, good tone, etc.
Those with paper labels placed by hand on the back and filled in with ink are probably earlier ones and may increase desirability/value. (Printed backs are more common.) But again, overall, condition, subject matter and its rarity are paramount.
While speaking, Bob also distributed myriad examples of the photography types and cases, which helped crystallize his discussion. He also provided us with a nice list of research sources, found in the attachment. To identify an image unknown to the owner, Bob recommends "Dictionary of American Portraits."
Bob concluded with a brief discussion on reproductions and forgeries. Given that many CDV images, e.g., of famous Civil War generals or political figures can be quite valuable, lots of ingenuity exists to deceive with CDVs. Do business with reputable dealers, and of course, always look for the dot prints on an image (that indicates a modern machine reproduction). To increase value and facilitate sale of a CDV albums, Bob indicated some folks might be feathering an album with one or two good soldier CDVs and filling the balance with very ordinary CDVs.
Beware signatures found on the CDVs as well. Remember that the paper was tight when new, but as it ages, tends to separate. If ink is added later, it will likely bleed more than a little.
Bob gave a delightful, informative and participative discussion.
Political Pinbacks

By Tony Lee

Edited by Eleanor Jenitis
Tony delivered a lively and varied presentation on political pinbacks, laced with numerous examples which he distributed to the group. Tony introduced himself as President of American Political Items Collectors (APIC), "Big Apple" chapter, Titusville, PA. Tony mentioned that their annual convention, this year in Columbus, boasted 242 dealers and good attendance. He also mentioned he is encouraged by the amount of younger people entering this collecting arena.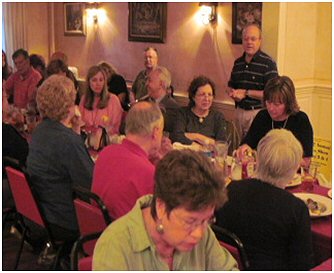 Tony referenced Ebay and its part in this collecting field. Similar to other categories of collecting, Ebay has provided access to much more inventory (e.g., a quick search yields over 10,000 political items) and thus has also acted as a price equalizer. He noted that as with other fields, quality always sells and at good prices.
Tony recalled the genesis of his collecting of political items. In the late 1960's, Tony's brother attended various protest marches, where he gathered myriad buttons of the era. Tony at one point brought the grouping into school, and lo and behold, his teacher also had some and offered them to Tony. Instant larger collection!
Tony challenged our knowledge of history a bit, asking when and what might have been the first political campaign item. Answer, George Washington provided clothing buttons, given to be sewn onto outer-wear in support of the new president.
As a side note, Tony noted that in the movie "National Treasure," part of the secret for which they are searching were some Washington Inaugural Buttons...
Celluloid pinback buttons were introduced in 1896, during the McKinley vs. Bryan campaign. These buttons were invented in Newark, New Jersey, with the original building still standing. 1896-1916 is considered among collectors as the Golden Era of political buttons, especially those of the 1 1/4" size. Artists would create the design, place celluloid around it, then mass produce. Though the quantities were far larger than ever before produced, they were not massive, by today's standards.
Circa 1908, the manufacturing process changed. We move to lithography, which is stamped onto the pinback. Not as pretty, but the process enabled yet again, far greater manufacturing quantities. This downwardly affects value, because those quantities are still out there and available.
Tony highlighted a rare piece and also tested our political savvy. In 1920, the Republicans ran one Senator Warren Harding, former newspaper man with Calvin Coolidge as VP. The Democrats responded with Governor James Cox, newspaper publisher. Cox didn't have much financial support, didn't spend his own money and even with his running mate as Franklin Delano Roosevelt, the Democrats lost in a landslide. Because the money tight or not wanted to be spent, buttons are relatively scarce from this election. Jugates (political buttons with two portraits side by side) with both candidates have sold between $20K to a record high of $130K. In the following election cycle, 1924, again, not many political buttons were circulated. Incumbent Republican president Calvin Coolidge ran against the Democratic ticket of James Davis and VP Charles Bryan, Wm. Jennings Bryan's son. Landslide victory for the Republican ticket. Since buttons from this campaign are also relatively rare, they have value, e.g., $5k - $45K, still behind a Cox jugate, but valuable.
Tony also told us an anecdotal story of a gentleman who attended a box lot auction, and after many "choice again" calls, he purchased the balance of the box lots for $1.00, in which he found a Cox jugate. Sold at Heritage. Always nice to hear the discovery tales!
Tony then moved us through traditional value and evolving value items. Historical impact and scarcity of items traditionally always draws. That said, lately, textiles have come into their own. So-called entry-level hankies, bandanas, etc. used to have low value, but now can run into the hundreds. Significant campaign flags, banners with graphics, have sold between $10-$20K, depending on their historical significance and rarity. Also appreciated by collectors are beautiful posters, great graphics, scenic backgrounds with campaign advertising, etc.
Ferrotypes, tintypes with running mate on reverse, are desirable, but as with most things, condition has become important; in fact, it is paramount.
In addition to the pinbacks, Tony also brought examples of tintypes, gemshells and tokens. Tokens, because they so numerous and because the customer base has waned, are not particularly valuable; in fact, they have actually depreciated in general value.
Tony addressed the usual bane of collecting, reproductions. Reproductions in political buttons were heavily produced in the late 1960s-1970s. How to detect? Sometimes obvious and sometimes not. Obvious course is to look at the rim of a button and read what's on that rim. E.g., if it says, "Kleenex Tissues," this was obviously a reproduced item for advertising purposes.
Also, look at the rim for scratches or "scratch-outs." Likely these are reproductions, with the scratches trying to delete/hide the advertising.
Older buttons should be celluloid, generally. Often buttons have no date because the buttons were of the day, and all knew the date. So, if a button has no date, it probably and may be okay. That is not to say, however, that a button with a date is a reproduction, though it certainly may be. This is an area where one needs to know the types and traditions of pinback button issuances of that time. It is best to consult an expert.
Also, if you have a celluloid button with an old newspaper backing (made to look like it is of the period), it's a reproduction. Buttons did not have current/local newspaper backing at that time.
These are a few hints to determining whether a button is right or not, but sometimes it becomes difficult to tell. Best to consult with an expert collector to verify what you might have or discover...
Finally, in closing and in a general question and answer exchange, and therefore in no particular order, we learned a few more salient points.
On whether collectors should start collecting new buttons, Tony indicated possibly (though he said so very cautiously), depending on how many were made and how unique the campaign advertising. E.g., if a new button at a local fair for a candidate where quantities were limited, those might have a better shot at some nearer-term future value. Or, e.g., buttons issued at a particular closed-door fundraiser, where surely only a few were issued, might see some value. But even with that, new buttons don't have a great shot at near-term collecting value. Tony reminded us that in the pre-Ebay era, people would get new buttons, squirrel them away for a while, and then be able to sell. Ebay changed that. Too many of everything is available now.
Tony mentioned that the notion of scarcity of quantity of a particular aspect of a campaign can also be true with older buttons, e.g., a Roosevelt with a 1944 Keystone State (PA) nudges the value upward a tad, from ~ $10 to $25.
Political buttons of people who have crossed over functional lives can sometime be okay, e.g., Senator John Glenn, later becoming Astronaut John Glenn.
In general, campaign items are more collectible than standing presidential items. E.g., Candidate Truman items, (Truman not having as much financial support and therefore issuing relatively less campaign paraphernalia), tend to be more valuable than items issued later, as President Truman, when he had more monetary support.
Campaign advertising lanterns in mint condition are showing good value.
Tony mentioned that the Allentown Paper Show (held three times/year - April, July and October) is the best venue for selling, buying, trading and observing great variety and quality.

A 1948 textile with all the presidents until Truman do not have very much value because they were expressly made as collectibles.
Newspapers with political content are just not worth anything. Yes, historical, but still no value. Occasionally a "Dewey beats Truman" newspaper can garner some money ($1-$2k), but generally, newspapers are worthless.
Tony Lee may be reached at 610-730-9490, on his cell at 609-802-1966 or at tony@adicio.com.

Antique Marbles

By Chris Doerner

Edited by Eleanor Jenitis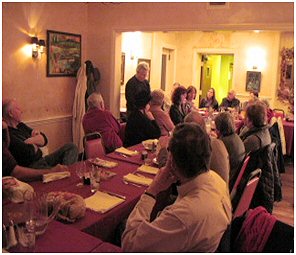 Chris Doerner shared with us the antique marble collecting world. Chris has a multi-faceted background, owning, with his wife, 21st Century Auctions. He also has been a producer and director, involved in the independent movie world.
Chris opened his presentation with the jargon of antique marbles: "If you're the type of mibster that has knuckled down with a taw and shot for an aggie duck, then you already know quite a bit about mibs."
The jargon: mibster = a marble player; knuckle down = getting ready to shoot marbles; taw, = shooter marble; aggie duck = English slang for a type of marble; and mibs = marbles.
No one can really ascertain when and where marbles were created. They have been found in ashes of Pompeii, across the Roman Empire and in the tombs of ancient Egypt. Native American tribes have played with marbles. So, it's virtually impossible to pin down a precise country of origin. Chris opined that perhaps they originated with the cave men, who possibly gave stones, polished smooth by a running river, to their children to keep them busy!
Chris led us to the next subject of discussion: Artisan-Made Marbles - those shaped by hand from clay, stone or glass.

Hand-Made Glass Marbles:
Grew in popularity from the late 1800s;
Were individually planned, cut and finished the same way high end blown glass vases, canes and whimsies were;
Individual glass rods - some quite tiny - were laid on an oiled metal plate or anvil and a blob of molten glass was rolled over the rods to produce particular patterns;
A glass cylinder was rolled out thinner and thinner until it reached proper diameter. This was known as the "cane" stage.
Some of the glass canes today that don't have the traditional U-shaped handle are, in reality, marbles canes that were never cut. The glass blower snipped off the marble and dropped it into a wooden mold. Glass would be rolled around with a wooden paddle until most or all of the pontil disappeared. (A pontil mark is the scar where the pontil was broken from a work of blown glass. The presence of such a scar indicates that a glass bottle or bowl was blown freehand, while the absence of a pontil mark suggests either that the mark has been obliterated or that the work was mold-blown. Also, in the collectibles and antiques industry, the term pontil refers to the mark impressed on a blown glass item over this scar, since many notable glassblowers have impressed or engraved maker's marks in the pontil scars of their work.)
The glass would then be placed into an annealing oven to cool for approximately 48 hours. It is for the following reason that most marbles do not measure more than 3" in diameter: Right around the 2 3/4" mark, the weight of the glass during the annealing process causes the marble to sag on one side, creating essentially a paperweight.
Only the most skilled of marble makers could create the right lattice of glass rods to support marbles of this size. While the most beautiful of all types of marbles available, they were also the most difficult to make, the most expensive to make, but why today they are so desirable and valuable.
Clay and Porcelain Style Marbles:
Mass production started around 1884;
Sam Dyke of Akron, Ohio, created a wooden block with six grooves, each holding a lump of clay.
An operator would roll a wooden paddle over all the clay balls at once, creating six marbles at a time;
With 350 employees, Dyke's factory cranked out five train cars worth of marbles every day. That equals about one million marbles per day!!
What cost one penny each before, dropped to a bag of 30/cent;
Dyke's efforts made Akron the marble capital of 19th century America.

Glass Machine-Made Marbles:
In 1915, the mass production of glass marbles began. M.F. Christensen designed a machine to produce thousands of glass marbles an hour. His machine consisted of a screw conveyor made up of two grooved cylinders spun next to each other. A "slug" of molten glass was paced between the cylinders on one end and it was gradually carried down to the opposite side, simultaneously cooled and shaped into a sphere by the rolling grooves. The technology was so sound, that is has remained essentially unchanged and is still the most common method of making marbles today.
Considered to be the first mass marketed toy for kids, children collected marbles and invented many different types of marble games. For the next 75 years, playing mibs was one of the most popular of pastimes. Not only was your skill at stake in these games, but literally also the mibs you owned. Once you placed your marbles into the ring, you were "all in" - your marbles were totally at risk. If an opponent knocked your marbles out of the ring, they became his or hers. Thus, "You've lost your marbles!"
During World War II, with glass re-directed for the war effort and a lack of available new marbles, the interest in playing with marbles diminished. It has never quite regained the popularity it held with children prior to WWII, though it has survived.
Today, "Ringers" is the most common marble game:
Played in June at the National Marbles tournament in Wildwood, N.J., since 1922;
Boys and girls division in place since 1948, players between ages 7 and 15;
Children/teens compete for scholarships, prizes, and of course, glory in the ring!
Fun marble fact. Pennsylvania is quite the marble powerhouse - since the N.J. tournament began, 71 champions have hailed from the Keystone State!
So, you might have played marbles when you were a kid, or, since we are all dealers, have probably seen marbles offered for sale at auction or perhaps at the antique shops. Marbles are often the sleepers at these kinds of sales as they are usually jumbled all together in a big old crocks or perhaps a large mason jar or big tin. But there sure can be gold in "them thar jars."
Marbles are valued for their size - at both ends. The larger the marble, the greater the value. Chris has seen marbles go toward the $10k mark. The smaller the marble, the greater the value as well. It was very difficult to make incredibly small marbles, called "pee-wees,' that didn't warp out of shape or break in half.
Like other kinds of quality glass, value is based on the clarity, design, aesthetic appeal and, or course, condition of the marble. Scuffs, chips, cracks, starcracks and bips severely affect the condition of a marble. Remember, unlike other types of glass, these items were intended to be cracked together and rolled around on gritty, sandy surfaces. So for marbles not to be marred is a rarer thing.
Chris then gave us an overview of the typical types of marbles we may find:
Clay marbles;
Bennington marbles;
Hand-made marbles;
Early machine-made marbles;
Cat's eye marbles.
Clay Marbles:
Among the oldest kinds of marbles;
Made of clay and heated;
Most are fairly dull in color, like bricks, and have a pebbly, orange skin-like texture;
Some are dyed with brighter colors of pink, purple and red;
Most are small-sized. These have minimal value.
Crockery Marbles:
Fired like pottery and porcelain;
Mostly glazed;
Solid lighter color with minimal lines of colored decorations.
Chris showed us an example with an approximate value of $5.00.
Bennington Marbles:
Similar to crockery marbles;
High gloss glaze and brighter colored earth tones;
Texture similar to Bennington pottery.
These have the most potential value of the clay type marbles. Chris showed us a sample called a "pee-wee," valued at $15.00. He also mentioned that these marbles can be shot at approximately 40 mph, with the proper technique. Cracks pretty hard!
Hand-Made Marbles, Most Common Categories:
Latticino core swirl - includes a lattice of glass in center and ribbons of glass around the outer edges;
Open core swirl - bands of color that have some space between them;
Solid core swirl - bands of color so close together in the center it appears "solid;"
Ribbon core swirl - a flat band of color (may be twisted) in the center;
Joseph's coat swirl - has an outer layer of glass with different colored strands placed very close together;
Coreless swirl - has bands of glass on the outer edge with no core;
Peppermint swirl - an opaque white marble with bands of alternating pink, blue and red;
Clambroth - a solid opaque color base with thin ribbons of color on the outside
End-of-Day - often called onionskins and somewhat similar to Joseph's Coat. Difference being the base coat is transparent - Joseph's Coat's is solid on inside and colors on the surface;
Sulphide - clear, transparent with a solid figure inside. Can be a number, animal or human figure. These can be quite valuable, $200 - $400. The figure and size determines the value.
Most of the marbles were made in America and Germany. Machine-made marbles are now more valuable than the hand-made.
Early Machine-Made Marbles:
When the marble machines were loaded with large chunks of glass, called culets, and heated, they produced unique but surprisingly consistent looking patterns. Many machine-made marbles have old and obscure names - Guineas, Heroes, Uniques and Popeyes. Some have more recent names, including Supermans, Spidermans and watermelons. Chris showed us a "Superman" marble (same colors as Superman costume washed!), valued at approximately $500.
Machine-Made Marbles Categories:
Transitionals - The earliest of marbles. Often were hand-snipped coming out of the machine. Often can be found with pontils, folds or creases;
Slags - Transparent colored base and white band of color mixed in. Think two different types of paint partially mixed.
Opaque and Swirl - Solid base color with other colors running around the surface of marble;
Corkscrews - Solid base color with one or more colors running in "S" shape around the marble;
Patches - Solid or transparent base color with a single spot of "Patch" of color. Versions with transparent bases are often called "Helmet Patch;"
Sparklers - Have many thin lines of color layered around the marble.
Cats-Eye - Even the lowly cats-eye marble has received a terminology makeover. The types of cats-eye are banana, open caged, multi-frilled, color fringe frill and multi-colored frill. These cats-eyes were all made between the 1920s-1950s.
In addition to condition, value is determined by base color, color of single bands and the number of colored bands. The more colors in a marble, the higher the value. Flame is good, valued at $100. A marble called a "Cobra," which has a corkscrew design to it, can be $50 - add color, triple the value. Certain rare combinations can fetch up to $1,000.
Most marbles today are made in Mexico, including marbles named "Galaxy," "Starships" and "Comets."
Chris pointed us toward some reference materials, including an antique handmade marbles book by Everett Grist and an antique machine-made book by Robert Block. He also gave us hints as to how marbles can be nicely displayed, including filling a glass rolling pin with marbles or filling a bubble gum machine!
In addition to the samples Chris passed around, at the conclusion of his presentation, Chris gave all the attendees a goodie bag of marbles, including a bumble bee, sweet pea, cats eye, open cage, frilled.
If you have any further questions, Chris may be reached at 609-877-6843. His auction house, 21st Century Antiques, typically runs auctions on a Monday, though multiple auctions are held on other dates. His web site is: www.allthingsold.com; email is dolltoy@hotmail.com and he can also be located through Auctionzip.com. Chris noted that he charges no buyer's premium. His auction house typically offers antiques and collectibles and holds two high end auctions/year.
Antique Bottles

By Mike Schwartz

Edited by Eleanor Jenitis
Mike delivered a nice composite of bottle collecting, both from bottle type and historical perspectives. He showed examples of everything discussed, which helped crystalize what we were hearing and learning.

It was in the 1960s when bottle collecting really got started in any broad scope. Various types of bottles were discussed as follows.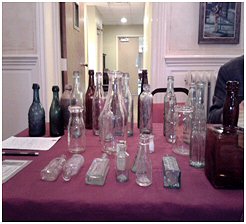 Beer Bottles - In the 1870s, beer bottles were made of stoneware. Mike showed us an example from Philadelphia.
In the 1880s the bottles were typically embossed glass.
Mike also showed us an example of a bottle done not
directly by a beer company, but rather by a contractor to the beer company. After Prohibition, bottling companies stopped embossing. On a commercial note, a pivotal point in bottling occurred with the invention of the Owens Automatic Bottle Machine, patented in 1903 by Michael J. Owens. This machine moved the industry away from semi-automatic manufacturing to manufacturing devoid of human labor. Though some manufacturing occurred in 1904, it was in 1905 when serious manufacturing commenced.


Soda Bottles - Mike showed us some nice examples, including an early 1840-1850 bottle from Cleveland. The 1880s produced some nice colored soda bottles and collectors tend to collect by color. Mike also had a relatively scarce example from New Hope, PA and one by Francis Brothers, Doylestown, PA. The Mercer Bottling Co. embossed an "M" on the bottom since the bottles went into the case upside down. Mike also shared a machine-made embossed bottle from New Hope, PA. In addition to color, collectors of soda bottles also collect because of the graphics and others by shape, e.g., bowling pin style. Mike also mentioned that in addition to collecting the actual soda bottle, collectors also seek advertising blotters and post cards. Because so many of the soda companies had not the money to advertise, such paper is relatively scarce and thus desirable.


Milk bottles - Many bottles exist from farm dairies in Pennsylvania and New Jersey. Mike showed us examples from Doylestown, PA. and Langhorne, PA., of a larger size. Regarding creamers, Mike noted that most have painted labels. By the 1950s, silk screening was used on various dairy bottles, e.g., sour cream, cottage cheese bottles, etc.


Drug Store Bottles - Because these bottles were often paper-labeled and non-returnable, they were thrown away. In the day, that meant they were dropped down the outhouse hole, leading to an eventual collector "treasure trove." Patent medicine bottles are very collectible, based on location and what they contained. Color is also a factor, with cobalt blue the more desirable. Lydia Pinkham bottles, especially with contents, are desirable. Mike showed us an early 1830 bottle and a Jersey City Shoe Dye bottle.


Cleaning Bottles - Do not remove the labels!! Sometimes patent bottles still have the contents in them. Remove with ammonia the contents. A mint bottle will remain! For removing stains from a bottle, the product "LimeAway" works okay. Some collectors choose to have the bottles cleaned professionally, at a cost of $15-$25. Cleaning means removing the mineral deposit from the surface of the bottle. Mineral deposits occur when the bottles have been in the ground for long periods of time. These deposits give the bottle a stained look, or a cloudy appearance. Most bottle collectors have an assortment of bottle brushes and are fairly adept at removing remove the dirt and grime from the bottle.
Mike mentioned that there are a few bottle shows in the area, e.g., four in New Jersey and two in Eastern PA. Regarding the collecting market, Mike indicated it is fairly stable, with younger folks entering the market. These folks typically buy bottles from their community. This fundamentally concluded the formal presentation; Mike then took questions, from which we learned the following.

Retail prices for beer bottles from the late 1800s are typically in the $35 range, milk bottles in the $10-$20 range. Age of a bottle is determined by the neck itself. Approximate age of earlier graphite bottles can be determined by the bottom on some. As we move through time, however, age is determined by the top, rather than from the bottom. Coca-Cola bottles were heavily reproduced in the 1970s, so be aware of that. Serious bottle collectors today dig outhouses to seek out the treasures. A nice discovery occurred in Trenton, N.J. about two years ago. A collector dug an outhouse, and after cleaning the bottle, discovered it was a $7,000 bottle!! Outhouse diggers use a particular probe to detect glass underground. These folks typically know where the outhouses should have been relative to the house. Sometimes old land plots include the outhouse, though we know the holes and outhouses were moved from time to time. Typically they were located not extremely far from the house, just far enough. They also were frequently situated near lilac bushes or alternately, lilac bushes were often planted near the outhouses.

This concluded Mike's presentation. Thanks to Mike for sharing a collecting world with which many of us are not familiar. Mike's enthusiasm and knowledge shined throughout the presentation.

Antique Weapons

By Stanley Smullen

Edited by Eleanor Jenitis
Stanley Smullen shared with us a history and education of antique weapons.

Stan shared with us the genesis of his collecting. He originally started collecting coins at an early age right up until high school, where he migrated to collecting antique weapons. He ran into some folks who had weapons and Stan then traded coins for weapons, a strategy he found beneficial.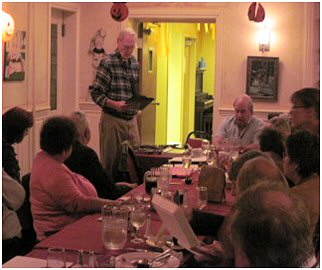 Stan reminded us that in an evolutionary light, what separates man from other life forms is the development and use of tools and weapons. Likely the first weapon man used was a stick or rock in its raw state, and then perhaps later a rock sharpened with fire. Then man likely utilized a rock with sling to gain velocity, and continued to evolve to forge spears, knives, swords, etc. throughout the eons.
Fast forward to the 19th century, whereby the Chinese are credited with inventing gunpowder. Probably the first gun was hollowed out bamboo or iron, loaded from the front, place the ammunition, then laid the powder on top.
Early guns were a bit dangerous. A designated shooter would hold the weapon, another individual would put a flame to the touch-hold. Look out, at times more dangerous to the shooter than the intended victim! Eventually, the use of slow matches and flint became the accepted methodology.
Sometime during the 1800s, the true flintlock firearm came into being. Stan showed us a 1780 example. It was English and its loading method was powder, ball and a rod tamps it down. In response to a question as to how safe was this methodology, Stan indicated extremely safe.

Stan described the firing process of flintlock firearms and the difference between this and earlier matchlock. (A frizzen is an "L" shaped piece of metal hinged at the rear used in flintlock firearms. The flint scraping the steel causes a shower of sparks to be thrown into the flash pan.) The flintlock gun basically has the priming powder going into the pan, the piece of flint held in place with set screw, with leather around it, gun is readied for fire, at full cock, the flint strikes the frizzen and ignites the powder in the frizzen pan, then some time delay.
The next step in the gun evolution process was the percussion lock. Stan showed us an 1840 dueling pistol as example. The loading process was the same as the flintlock, but without the priming pan; instead had a percussion copper cap on top. The percussion cap is a small cylinder of copper or brass that was the crucial invention that enabled muzzle-loading firearms to fire reliably in any weather. The cap has one closed end. Inside the closed end is a small amount of a shock-sensitive explosive material. The percussion cap is placed over a hollow metal "nipple" at the rear end of the gun barrel. Pulling the trigger releases a hammer which strikes the percussion cap and ignites the explosive primer. The flame travels through the hollow nipple to ignite the main powder charge. So fundamentally, cock and shoot. This is real improvement over the flintlock.
Iconic in firearms history is the percussion-repeating revolver introduced by Samuel Colt in 1836. This revolver was a game-changer, enabling five-six shots and easy to load. The ability to rapidly shoot five-six shots helped reduce the emphasis of accuracy, since a missed shot could be rapidly followed by another. The heart of Colt's invention was a mechanism that combined a single barrel with a revolving chamber that held five or six shots. When the weapon was cocked for firing, the chamber revolved automatically to bring the next shot into line with the barrel. Stan showed us an 1860 model, .44 caliber. The Colt was used heavily during the Civil War. The North dominated the use of this weapon as the South could not get their hands on enough of them. As Stan indicated, the revolver was remarkable in engineering, with a barrel wedge on the side, barrel comes off, cylinder comes out, soldier would have the cylinders already loaded in his pouch, would simply slip the cylinder on, replace the barrel, and fire.
Stan also showed us a Colt Model 1877 "Lightning." This was a double action revolver manufactured by Colt's Patent Fire Arms. It was the first successful US made double-action cartridge revolver. The Model 1877 was offered in three calibers. The principal difference between the models was the cartridge in which they were chambered, the "Lightning" being chambered in .38 Long Colt.
Stan then moved us through a brief discussion of value, and how it is determined.
Stan showed us a silver knife with an American eagle on it, with scabbard. He told us the story of how last year, an antique knife was sold as a letter opener for $35. In reality, it was a naval officer's dirk. A thrusting weapon, the naval dirk was originally used as a boarding weapon and functional fighting dagger. It was a personal weapon of officers engaged in naval hand-to-hand combat. It's worth is actually in the range of $2,000 - $3,000. So, it pays to know what it is.
Stan referred us to "Flayderman's Guide to Antique Firearms" as a sound reference source. Auction catalogs are also helpful, along with trade magazines in both identifying what it is and potential value. Stan again emphasized the importance of knowing what you have. If you buy a gun, buy a book about the gun. If you sell the gun, keep the book. It is your reference for future.
Stan then moved to the usual bane of our profession, fakes/forgeries.
Colt revolver reproductions were made heavily from the 1960s, as war reenactments became more popular. Some will show honest use. Others, though, have had the markings taken off, been buried, then attempted to be sold as antique.
Stan indicated the number of fakes is a real threat today. He showed us examples of silver dollars, German WWII insignia, all fake. The silver dollars were made in China.
sometimes with making them with 90% silver to help enhance the fake. Earlier ones, when made of metal, are very easy to detect. Just put a metal detector to them.
As with virtually all collecting disciplines, rarity is always a factor in value, what Stan referred to as the "survival factor," along with the number made. Value is also driven by whether it has historic interest, e.g., Civil War association, Wild West, cowboys, Gold Rush, etc. Stan emphasized, one needs to do the research.
Stan wrote an article for the "Civil War Trader." Stan also referenced a story highlighting the need for doing the research and knowing what you might have. A sword was purchased locally which was a Tiffany silver mounted presentation sword with engraving on the scabbard, Civil War era. This was originally appraised at approx. $7,000. Purchaser contacted a research service company, which traced the colonel and regiment, delivering 16 pages of research, which also included a period photo of the respective Colonel with that sword. There was an association with an Indian agent for the Navajo Tribe, involved in the march. Colonel died in 1869 from hostile activity. Ultimately the sword sold for $12,000. That's what we call "selling history!"
Stan briefly discussed condition and its place in value assessment. There is Basically new; Honest use; Reconditioned; and Poor. Stan showed us an example of a gun where the serial numbers on the parts don't match. Value approx. $500-$600. It was indicated that the U.S. Army used to send guns for refurbishment. In that process, myriad parts were kept in a bin and utilized as part of the refurbishment. These guns were issued to Indian scouts. Stan's example has a mark indicating refurbishment, and because of that mark, value approx. $1,500.
Dan Worden mentioned that the refurbishment process is still occurring with M1s for our Honor Guards.
As we see in many areas, market value down now, except for the higher end items. Low end still selling, but middle not so much. Stan mentioned there is a blue book of gun values for modern arms, which is helpful.
In closing, Stan touched upon firearm regulation. Be aware of all laws! E.g., know that while New York State may have liberal (liberal meaning favorable to bearing arms) laws, New York City does not! In New York City, even out of city police officers must surrender their weapon(s) at the first precinct entered. Pennsylvania has liberal laws, New Jersey does not and is horrendous in that regard.
What about selling a weapon in PA? Antique arms (prior to 1898) do not require a background check and may be traded without a license. If purchasing a gun made post 1898, at a gun show or auction, the vendor, designee or auction house will contact Harrisburg, PA., for the real-time background check. The serial number is crucial in dating the weapon. E.g., Colt has a reference book to match serial number and date of manufacture. Can be a tad tricky though. E.g., an 1877 model Colt revolver, but made in 1904, is a modern weapon and needs the background check performed.
In closing, Stan showed us a large and heavy piece of original flint as it comes out of the ground. Thank you, Stan, for a great history and very illustrative examples of antique weapons!

Antique Anvils

By Ivan Raupp

Edited by Eleanor Jenitis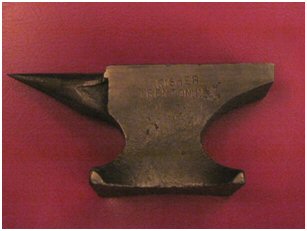 Ivan Raupp, shared with us his expertise on antique anvils. In concert with his presentation, Ivan distributed hard copies of his presentation: "The Anvil: A cool old tool that gets no respect!"
Ivan opened with his comment that he is delighted to be a member of the BCADA and looks forward to the many meetings and events.

Ivan is an anthropologist by education; journalist in all other respects. Blacksmithing is something which has always intrigued him. He collected iron for many years and is a self-taught blacksmith, preferring to use old tools. He reads a lot on the subject and consults with those in the industry.
Ivan spoke of the technology around the iron and how it connected to the mines, railroads, and local geographic areas, e.g., Allentown/Bethlehem area (e.g., anthracite).
He then noted: The art and science of blacksmithing - to have a creative vision is a kind of prerequisite to making something beautiful. And it is the anvil which helps make it happen!
Anvil Shape:
A natural evolution - particular to the blacksmith.
Form follows function; presents harmony & beauty; moving from random design to purpose functional design; every element of the anvil's design has a function.
Ivan also noted two famous industrial designers, Raymond Loewy and Henry Dreyfuss.
Parts of the Anvil:
Horn; table; face; hardie hole; pritchel hole (which came along in the late 1700s); heel; body waist; base; foot; shoulder.
Can heat to 1500 degrees the horn. The table is softer metal and is where the blacksmith cuts. He raises the heat so that he can cut. The face is a hardened piece of steel.
Oldest version of an anvil is found in St. Augustine, Florida.

Determining anvil weight:
Usually stamped into the broad right side (with the horn pointing to the right); American anvils stamped in pounds; English anvils use the ancient "stone" system to show weight and will show three numbers - the leftmost number indicates hundred weight = 112 lbs.; the middle number indicated quarter hundred weight = 28 lbs.; the third number indicates the remaining pounds less than a quarter hundred weight.
So, an English anvil stamped "2-2-20" would be calculated as follows:
(2x112) = 224 lbs. + (2x28) = 56 lbs. + 20 lbs. = 300 lbs. Thus a "2-2-20" = 300 lbs. (a very big anvil).
Dates for anvils:
1500-1780 - Colonial anvil and Colonial anvil with horn
1780-1830 - Colonial and old English
1830-1850 - Old English; looks more graceful vs. cobbled together
1850-1895 - Peter Wright perfected a 2 pc process for making
1895-1950 - Modern
1950-present - Cast steel
The shape of the anvil helps the blacksmith move hot metal. The most commonly used techniques are:
Drawing out (making a thick piece thinner, e.g., as in making a nail;
Upsetting, the opposite of drawing out, e.g., as in "heading" a nail;
Bending, as in shaping a hook;
Twisting, as in applying decoration to wrought iron railings;
Hot cutting, using a chisel to sever a piece of hot metal;
Forge welding, fusing pieces of hot metal together;
Punching, using the pritchel hole to create an opening in the red hot metal, to create an "eye" or an opening to be threaded;
Riveting.
Ivan shared a bit of cast iron anvil commercial history. Two men, Fisher & Morris, started out in Maine, in a barn. C. 1840 the barn burned down. They see a piece of steel forged onto a piece of wrought iron, due to the extreme heat of the burn.. They simulated the circumstances, started the process and a business! It is often called a dead anvil because there is no ring when it is hit.
Ivan also gave us a "roadmap" to help identify anvils. A good reference guide is by one Richard Postman. And of course, on-line sources are plentiful.
On a concluding commercial note, Ivan indicated that anvil miniatures, those tiny anvils which were salesman's samples or promotional pieces, are highly prized collectibles.
About pricing, Ivan gave a rule of thumb $2/lb., though with a rare anvil sky is the limit. Ivan purchased a salesman's sample @ $75 and thought that was a very fair deal.
To best determine the age, Ivan showed the chart on shapes and era. He also mentioned that during the Civil War, soldiers broke off the table of the anvil to try and render it less effective.
Antique Metal Toys

By Jim Wiley

Edited by Karen D'Anjolell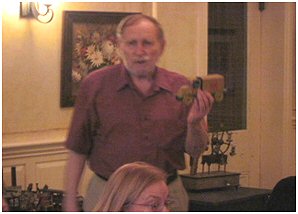 Jim informed us that tin toys are currently very active at auctions including Noel Barrett auctions at the Eagle Fire hall in New Hope. Tin toys were at their most popular from the mid-19th century to the early 20th century.
'Mechanism' types are better quality than 'cast iron' type toys but are going down in value. Meanwhile the 'cast iron' toys are growing in value.
One of the earliest companies was Pratt & Letchworth from Buffalo, NY who made iron and steel toy carriages. This may be because they started out making saddlery hardware in the 1860's. There are no marks on these toys and you need to have a reference book to determine the manufacturer.
Strauss, another manufacturer of primarily tin cars and trains, started in East Rutherford, NJ. They hired Louis Marx who later started the Marx Toy company.
Many of the tin trains made in the 1850's to 1860's were from Philadelphia including Francis Field, also known as the Philadelphia Tin Toy Manufacturing company. Many tin toys in the 1800's came from Germany as well including Bing in 1863, Fleischman in 1887, Lehman in 1881, and Guntherman in 1870. They set the high standards for the German tinplate industry.
A company from Dayton, Ohio called Dayton Clarke made inertia wheeled toys like a 7" tall and 7" long cast iron tin car that is worth $500.
Gibbs Toy Company from Canton, Ohio, started out making doll houses in 1910. Jim had an example of a Gibbs see-saw toy that was worth $100.
A wind-up truck on track by the Wolverine Company of Pittsburgh, PA was made in the 1920's and worth about $75.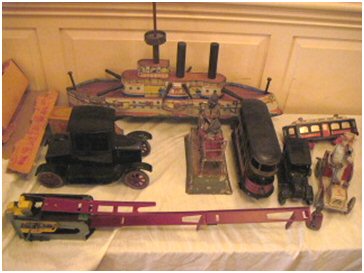 Jim brought an impressive large lithographed stamped metal ship in the Spanish-American War style by the Converse Toy Company from Massachusetts. It was about 22" long and worth $2,000.
Other examples of tin toys from Jim were the German made nice sounding 'Black Minstrel' toy and the 'double decker trolley' car. Both by the Guntherman toy company from the 1870's. Both were worth about $70 each. It was noted that real double decker trolleys are still used in Hong Kong and other parts of Asia.
Another German company called Lehman tried to make toys of 'everyday life'. Jim's example was a 6" tall piano player whose clothing was made in France but painted in Germany. This was worth $200.
Many of these early metal toys have no marks and you need to reference books to determine the manufacturer and the value. When you find early small tin toys in all original paint and in working condition, they are still only worth in the $30 to $70 range. You can find them in toy auctions everywhere. One member said it seems a shame that they aren't worth more but they are what the market says they are.
Jim exhibits and gives seminars every other Saturday at the Mercer Museum in Doylestown. This is free with the general price of admission to the museum.
Precious Metals

By Kim Hemingway

Edited by Eleanor Jenitis
Kim is a member of the PA Auctioneer's Association, holding myriad positions within the Association. Kim, an auctioneer for 21 years, is a gemologist, specializing in jewelry. She also offers appraisal services.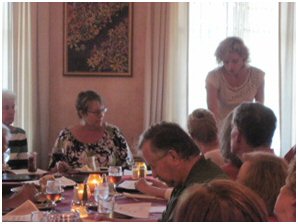 Kim delivered a very informative presentation on "Metals, with an Accent on Jewelry." She commenced the presentation by passing around multiple trays of jewelry to help illustrate the markings found on jewelry/metals. Her presentation walked us through the various metals and how to identify jewelry and its metal content.
The karat (k) designation in gold is an indication of the amount of pure gold/alloy which is present in the jewelry. 24k is pure gold; as the numeric k declines, so does the amount of gold. For example, 18k = 75.00% gold, 14k = 58.33%, 10k = 41.6%.
While 24k is pure gold, it is thus "softer" and very malleable. So from a jewelry manufacturing perspective, jewelry that is subject to friction or impact is typically made of a lower karat gold. E.g., men's jewelry or rings tend to typically be 14 or 10k, as are many bracelets. It is simply a matter of practicality to have the lower karat gold.
Kim spoke of the various markings / hallmarks found on jewelry. She told us to always look closely and to use a loop to help identify the karat and/or assay mark. (The assay mark indicates the maker and/or origin of the piece.) For example, with gold, an eagle's head (a French mark) indicates 18k.
With platinum, "950" indicates 10% Iridium, 900 ppt Platinum. French Dog's Head points to manufacture after 1912.
There are a lot of gold hallmarks, so it is important to do the research to fully identify the piece of jewelry. Another example, if one sees "585," it means 585 parts of 1,000. The rest of the jewelry content would be alloys, added to give color/strength. E.g., adding copper will give the gold a rose color.
Kim mentioned that while solid gold is technically 24k with no other elements or alloys, the Federal Trade Commission (FTC), in June 1963, said that items can be called solid gold if: it does not have a hollow center; and, it has a fineness of 10k or more. Interesting.
Jewelry is measured (weighed) in pennyweight (DWT = denarius + weight). This designation originated because the Scottish believed that their penny weighed the same as the Latin Denarius.
Kim touched upon "Heft & Appearance" to also help with identification of jewelry. With respect to weight (heft), platinum is the heaviest, followed by gold, silver and base white metals and brass. One can definitely tell the difference in platinum weight.
With respect to appearance, tarnish is an indicator of the metal. High karat white gold alloy, rhodium, palladium and platinum do not tarnish. Rhodium and palladium are in the platinum family and are often used as a plating. It will have the look of platinum, but is less expensive. The more alloy, the more tarnish. Common alloys include silver, copper, nickel, iron, tin, manganese and zinc.
Kim then walked us through the various metals and some highlights regarding them.
White gold: developed in the 1880s; contains no silver; contains 10 - 20% nickel + zinc, copper and sometimes platinum or manganese.
Gold Platings: gold-filled = 5% of total weight in karat gold; rolled gold plate = 1/40 of total weight in gold; gold electroplate = made by using electrolysis, least valuable (HGE" - heavy gold electroplate). If you see a fraction marked on a piece of jewelry you are certainly looking at a piece of gold filled jewelry. Have a look at the edges of the jewelry where it is most likely to be worn out or rubbed. That is typically where you'll see the general loss and can see the base metal eventually, e.g., brass.
Platinum: the choice metal; more costly & rare than gold; whiter than gold; strong, does not oxidize and is hypo-allergenic. Platinum began to be used in jewelry in the mid-1800s; in 1973 the Hallmarking Act was initiated which indicated no jewelry is to be marked platinum if it falls below 950/1000.
Sterling Silver: FTC states that anything less than 925 silver cannot be called "sterling;" it is 92.5% silver, 7.5% alloy (commonly copper); it was widely used for costume jewelry during WWI because many other metals were being used for the war effort.
The French Boar's Head & Crab indicate 800 silver or higher. Boar's head was used 1838-1961 in Paris Assay office; Crab used 1838-1961 outside Paris; since 1962 was also used in Paris.
Kim mentioned that Mexican Silver had tended to be of a higher silver content and well made: 95% silver, 5% copper ("950" or "Mexican Silver").
Pocket watch case markings: sometimes marked on inside of case; "Guaranteed" = gold filled; "Warranted" = gold filled OR gold; silveroid, silverode, silverine, silverore = 45% nickel, 54% copper, 1% manganese.
Kim concluded her prepared remarks indicating that for all the hallmarks and markings out there, much jewelry is not marked at all, particularly earlier jewelry. Thus, one needs to sometimes test the metal, notice the way stones are set, the actual setting, etc., in order to identify of what metal the jewelry is comprised.
Kim then took questions. Following is a brief summary of the responses.
Native American jewelry often has higher silver content than most jewelry.

Kim still does acid testing, hasn't migrated to the higher technology just yet.

Gold-filled = gold plate.

Re: cleaning jewelry... first determine the fineness. Best to use lukewarm water, toothbrush, soft soap liquid. For diamonds, one can use rubbing alcohol, but only with a diamond!

Jewelry appraisals: Kim determines the purpose of the appraisal, e.g., insurance, determines current market for the item, its mineral content and market value. She charges by the hour, goes to the customer and is bonded.
Kim may be reached at 215-541-4025 and is located in Perkiomenville, PA.
Restoring Glass

By Charles Sorrels

Edited by Eleanor Jenitis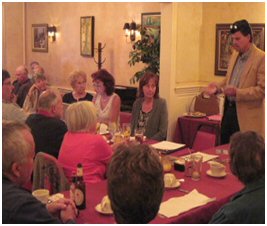 Charles is a master glass maker with 25 years' experience and also does restoration work. He has a master's degree from Rochester Institute of Technology School of American Craftsmen and has his own art glass studio. Several of our members have engaged Charles' services for repair to their antique glass pieces.
This presentation had a different spin to it with its focus being on the repair aspect of glass and the corresponding challenges based upon the quality, age and type of glass to be repaired.
Charles indicated the equipment and tools of the trade are similar to those used in the lapidary (gem cutters) industry. Charles then shared the myriad highlights, salient points and challenges in his business, in the order presented, as follows:
basic chips & rims can be taken out rather simply; he can take out the entire rim, going beyond the rim itself, but making sure the manufacturer's rim remains intact; he likes to round the edges slightly, reducing the possibility of chipping;


Feathering is a technique used if one wants to avoid going into the pattern on the rim; just enough of the damage is removed without creating too much of a dip;


removing bruises can be tricky, e.g., if there is an impact point on the side of a piece, how deep is the bruise actually? Some material can be removed, but sometimes he finds that the impact is deeper than originally know and reduces the ability to fully repair;


the glues he uses are all archival, won't yellow; only extreme heat would cause "bleeding;"


tumbling is a technique to remove mineral deposits whereby the actual glass starts deteriorating (devitrifying); Charles has designed his own tumbler, an oversized 30 rpm (slower than commonly used) device, with a mix of cut copper wire and polishing compound, which provides weight and drag on the interior surface and slowly facilitates the removal of material; this has been quite the innovation;


with Northern European glass, sometimes you will see gather lines, e.g., sleeving layers of glass; they look like small cracks, and yes, it will get worse over time;


cords are weird striations caused by glass stones on the bottom of the furnace (and are actually chunks of the furnace); they become embedded in the glass during manufacture; if you notice one in your glass piece, just leave it; don't try and remove;


exterior scratches on glass can be addressed; when on the interior, they become trickier to remove, as it is difficult to get a tool to it; those scratches can be a problem;


cracks can be addressed, an archival glue can be applied;


Bill D'Anjolell asked if a piece has too many cracks, is it not fixable? Charles indicated maybe, probably; but if the piece is extremely rare or carries high sentimental value, Charles can always have a go at it;


stained glass can be repaired, along with the lead; challenge there can be matching the color;


glues play a large part in the repair business, from re-assembly to re-construction; a piece can always be reconstructed, it's just a matter of whether it will be visible or not;


with acid etching or sand blasting repair, a sugar acid can be used to try and match old sand blasting patterns; Charles mentioned an example of having a decanter with a broken neck; he was able to find another neck, glued the two and matched the pattern;


a question was raised regarding the cost of repairs; a chip in a rim can be $8-12; replacing or repairing a slag glass panel could be $140; price varies considerably based upon the challenge and complexity of the repair;


a question was also raised regarding older glass, e.g., an early Steuben; can the color be matched? yes, but is more complex because of the chemicals used to make the colors then; one repair he did ran $400;


a question was asked whether newer glass vs. older glass can be determined? yes, older glass usually just feels a little different, e.g., texture and feels more oily; but, as a member pointed out, it can depend upon the maker, e.g., Bohemian glass vs. a Baccarat or a Steuben, whose factories would destroy anything less than perfect;


iridescent glass is quite difficult to replicate due to the stannous chloride fuming used;


a concluding question was would Charles appraise an item first to determine whether it is worth repairing? Yes.
Upon the conclusion, Ashley King mentioned that Charles had done a repair for him and endorsed the work, saying he was extremely fair. Mike and Judy Young, and Sara Abir indicated he's very reliable, and prompt.
Charles Sorrels may be reached by email:studio@sorrelsglass.com, or at 267-261-6289 or 610-965-1732.

History of Lithography

By Doreen Dansky

Edited by Karen D'Anjolell
Member speaker, Doreen Dansky discussed the history of lithography and printing with examples from her personal collection.
Lithography was invented by German actor/play write Alois Senefelder in 1798.
In original lithography work, dots are random. In reprints dots are in a pattern.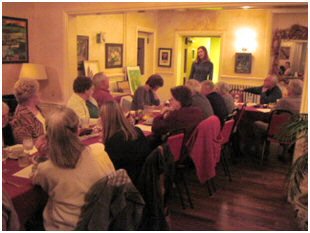 Beginning in 1837 McKinney and Hall sold subscriptions to 'History of Indian Tribes in North America", which were books of commissioned Indian portraits. McKenny worked for the Office of Indian Affairs. Hall wrote biographies. It actually ended up costing them more than they charged for the books. Subscriptions costs $120, which for the time was very expensive. Today they range from $400-$2,000, with the more elaborate dress being more valuable.
In 1835 Nathaniel Currier published his first successful disaster print, Ruins of the Planters' Hotel, New Orleans. He went on to become most successful lithographer. In 1857 he and his bookkeeper, Ives, became partners. Together they produced more than 7,500 titles. Their work was varied and covered all topics. Subject matter and size can add more value. Unusual ones can bring as much as $10,000. Prints originally sold for between 5 cents and $3. They described themselves as "publishers of cheap and popular prints". Their partnership dissolved in 1907. Most of their stones used to create prints were destroyed. They rarely show up at auctions today.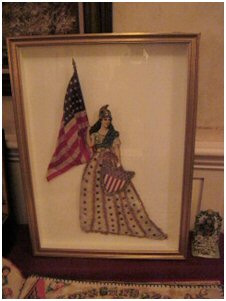 Every color has its own stone in Chromolithography. Louis Prang of Boston was the most famous American chromolithographer. He started his business in 1860 and was known as the father of the American Christmas cards.
The Germans were the masters of chromolithography and that is where people went to study it. It was also used as an art form by famous artists such as Toulouse Lautrec.
Almost anything can be lithographed…books, greeting cards, postcards, tin toys, wooden toys, boxes, art, porcelain, fabric, posters and more. Decker and Wyeth posters bring more money than others.
Doreen had many items from her personal collection to share with us that included artwork, posters, fabric book, greetings cards, fans, books and more. Within Doreen's collection were 7 small chromolithographed rocking horses valued at $150. A large framed lithographed woman with a small American flag was valued at $300.
At the end of the meeting, members viewed some of her favorite pieces from her collection displayed on several tables before they left the meeting. It was a very nice presentation.
The Story of the True Inventor of the Steamboat

By Eric Fleischer

Edited by Eleanor Jenitis
Member Speaker, Erik Fleischer, presented "The Story of the True Inventor of the Steamboat." The presentation was very good and provided a wonderful insight into a fascinating Bucks County historical commemoration and contribution to this great Country.

Erik introduced us to the John Fitch Steamboat Museum, of which Erik is a member. The museum is located in Warminster, PA. Members are strongly encouraged to explore the museum, either in person and/or at www.craven-hall.org or on YouTube (John Fitch Steamboat Museum).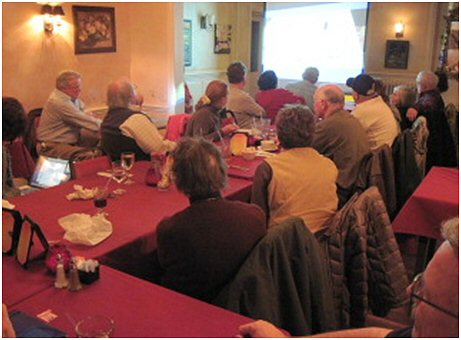 Erik shared some images from the Grand Opening of the converted museum, which included ribbon-cutting ceremony and assorted dignitaries in attendance.

John Fitch introduced the steamboat concept 17 years prior to Fulton, yet Fitch remained in relative obscurity. Myriad events drove Robert Fulton to ultimately be remembered more as the inventor of the steamboat.

That said, several memorials can be found for Fitch, including a fresco in the United States Capitol by Contantino Brumidi, depicting Fitch working on one
of his steamboat models. Various other statues/commemoratives can be found scattered around the country, including PA., Connecticut, Kentucky and New Jersey.

Fitch's trade was clockmaker and settled in Trenton, NJ in 1769. Then he went on to become a silversmith. During the Revolutionary War, he had to flee and lost his business. (Silver spoons are known to exist with his mark on them, so be alert!) Fitch joined the N.J. Militia. One anecdotal story has it that at the time, one could not fit a bayonet on a farmer's musket... So Fitch "invented" fitting a bayonet on a farmer's musket..."

His life's journey evolved and he became a land surveyor. But his attention became riveted on wondering why transportation vehicles could not be powered by steam. He built models and petitioned for funding for his projects, but was met with mediocre success on the financial front. He even looked to our Founding Fathers for assistance. He finally secured some money by selling shares of his invention so he could build. But meanwhile, and in the end, patents were ultimately issued to several people for the invention.

Again, members are encouraged to look up this fascinating chapter in American Industrial history. And of course, your most immediate source is Erik Fleischer himself!
Where do names come from?
"Credenza"

By Arthur Schwerdt
of August Farmhouse Antiques, Cape May, NJ

Edited by Bill D'Anjolell

The Credenza is a funny sounding name for a piece of furniture. A Credenza is a side cabinet that is more compact than a sideboard, and low to the ground usually without legs. There may be doors or drawers or open shelves on the side. They could be veneered, inlaid, painted with scenes, or decorated with ormolu (gilt metal). When someone was promoted in their company into a larger office, employees might say, "Congratulations and the office has a credenza!" It sort of meant you were moving up in the company.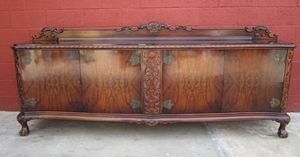 The word 'credenza' translates from the Italian word 'trust'. During the Renaissance period (about the 14th to the 16th century), the Kings, the Nobles, and the wealthy placed their food and wine in the dining hall on the credenza to be tested by servants for poison. Then they and their guests would feel free from assassination.

The Credenza made a popular return during the Renaissance Revival of the late Victorian/Edwardian period (1880 to 1910). Today, they are not restricted to the dining room but can be used anywhere especially in one's office, or as a hideaway bar. "Name your poison!"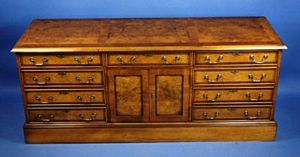 SWORDS BY
F.W. WIDMANN, W.H. HORSTMANN
and the United States Marines
by Stanley B. Smullen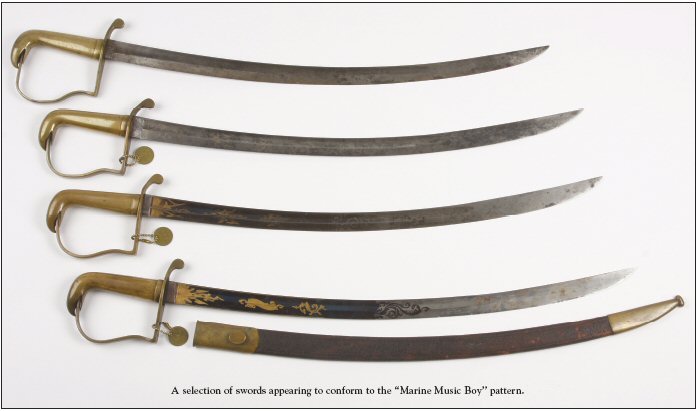 FOR YEARS, the distinctive swords covered in this article have variously been identified as "infantry hangers," "mounted or foot artillery swords" and "non-commissioned officers swords." These non-specific labels have resulted in confusion about their true identification and dating. This article will demonstrate that these swords have an association with the United States Marines and will illustrate and describe the known types.

The reason why we can now tie these swords to the Marines is because of a stroke of good luck. A number of years ago, noted antique arms author Norman Flayderman acquired some papers and work drawings of the Horstmann Company of Philadelphia — one of the foremost makers of American swords during the 19th century. These papers included drawings
of enlistedmen's swords, dated Sept. 1851, which show sword types labeled "Marine Musician," "Marine Music Boy" and "Marine Sergeant Sword." What makes this especially exciting is that groups of swords survive today that conform quite closely to the types illustrated in those drawings.

A fourth drawing, also dated 1851 and labeled "Marine Officer," was also included. And sure enough, the "Marine Officer" sword illustrated in this drawing is quite similar to the pattern presently in use by the Marine Corps. It is not known what motivated the production of these drawings, who did them or why they are identified as "Marine." Many of the swords that we have found conforming to these patterns were clearly made well before 1851. So we have a bit of an enigma on our hands. But regardless of whatever questions we may have about the original intent of the drawings, they clearly indicate the actual use (or, at the very least, the consideration) of these patterns by the United States Marines. Perhaps the drawings are illustrating a pattern that had already been in use by the Marines for quite some time...or maybe the Marines were thinking about standardizing upon a well-established pattern of sword with a long service history...we just don't know. Without swords of these patterns having firm Marine provenance, there is a limit to how much we can hope to learn.

There are, however, some tempting hints. In McClellan's Uniforms of the American Marines 1775–1929 (p. 62), Sergeants and Music's swords are discussed but not described...(MORE...see below)

(Click Here for first part of article with photos...Click Here for continuation of article with more photos)